Community meeting: Insight about SAFER's next phase!
Date
24 November 2023 09:30–11:00
Place
Lindholmen Science Park, Lindholmspiren 3A (vån 2), rum Demostudion or online via Teams
Join us for an exclusive insight into SAFER Stage 6!
We are thrilled to extend a warm invitation to our partners to explore the opportunities to engage and learn about traffic safety in SAFER's upcoming next phase, starting 1st of January 2024! This is your opportunity to delve into our research plan and even better understand how to engage in practice and successfully maximise your benefits from the SAFER platform in this stage.
What you can expect to learn about:
Joint vision, mission, and challenges: Delve into our shared vision, mission, and the challenges we aim to collectively address. Discover how your contributions can be part of the solution.
Comprehensive facilitation support: Learn about the facilitation support SAFER offers. Gain insights into how we plan to facilitate and address our partners' and society's research needs and challenges. These opportunities encompass prospects for research projects, funding opportunities, and much more.
The collaborative agenda of Stage 6: Dive into the ambitious agenda of Stage 6. We will outline our goals and initiatives that will shape the future of safe and sustainable transportation.
Project portfolio: Get insights on how you can utilize our common project portfolio value and learn about what you can gain from your projects being connected to SAFER's extensive portfolio.
Collaborative knowledge generation activities: Explore the collaborative activities in Stage 6 and discover what our event agenda includes in terms of workshops, co-creation activities, seminars, and conferences.
Access to scientific results and information: We'll provide you with the keys to our knowledge library and other resources where you can access our research findings.
Broad network of partners: Get an overview of our extensive network of partners. This includes leading academic institutions, industry partners, and public actors collaborating through SAFER.
Active engagement: Find out how you, as a partner, can actively engage with our platform. Learn how to contribute with your expertise and become a part of exciting traffic safety research projects.

We start the meeting with an energizing networking fika between 09:30-10:00.
Don't worry if you can't make it to this event, as we plan to have two additional (digital) sessions with this information planned for December and January.
Welcome!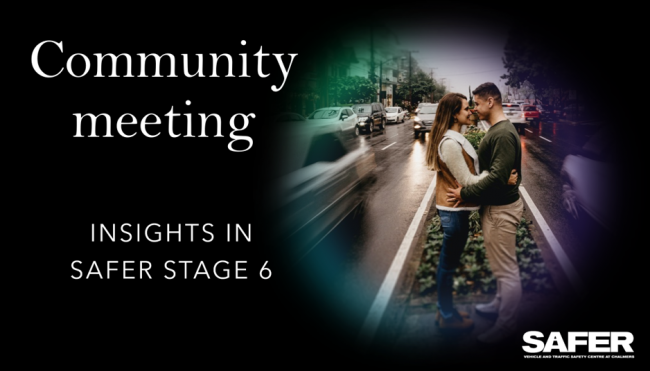 Info
Email
malin.levin

[at]

chalmers.se