Welcome to join the SAFER Study tour to Autoliv and Veoneer!
Date
24 November 2022 08:30–16:00
Place
Vårgårda (Veoneer and Autoliv)

Welcome to join us to Vårgårda on our SAFER Day November 24! We will visit our partners Autoliv and Veoneer.
Autoliv is the world's largest safety supplier, with operations in 28 countries and 14 Tech Centers worldwide. The company design, develop and manufacture world-leading passive safety systems for the automotive industry, as well as mobility safety solutions.

Veoneer is a world leader in active safety and restraint control systems, sharply focused on delivering innovative, best-in-class products and solutions to well-known automotive manufacturers.  

During this day we will visit Autoliv's and Veoneer's facilities, learn about their research, insights and ongoing projects. At Autoliv you will learn about occupant protection challenges now and in the future; predicting injuries with human body models, protecting motorcyclists and other vulnerable road users. At Veoneer, you will experience the latest innovations, learn about future challenges and hopefully we are going to visit the nearby test track with some demonstrations as well! The purpose of the study tour is to learn more about our partners and the competence available for us in the SAFER partnership, as well as to share knowledge, exchange ideas and get inspiration for new projects. There will of course also be time for some fun!
Registration (prior to Nov 17) here: https://fm.webforum.com/safer/form.asp?sid=316527082
Please note that you can also meet us in Vårgårda and not join the bus ride if that is more convenient for you.
AGENDA
08:30 Meet-up at Lindholmen Science Park – just outside the main entrance
08:45 The bus departures to Vårgårda
09:30 Arrival Autoliv
Refreshments
Presentations, dialogue, walk-around and demonstrations 
12:00 Lunch
13:00 Arrival Veoneer
Presentations, dialogue, walk-around and demonstrations 
15:00    Departure 
~16:00    Arrival Lindholmen Science Park
Welcome!
Please note that this event is for SAFER partners only!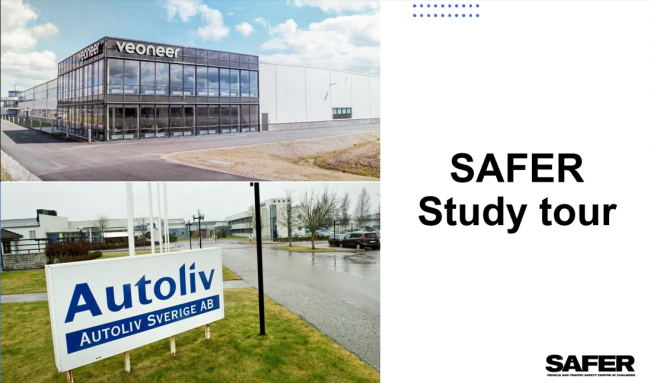 Info
Email
malin.levin

[at]

chalmers.se
Category
Chalmers visiting