We are happy to announce that the ninth edition of the International Conference on Driver Distraction and Inattention (DDI) will take place in at the University of Michigan, Ann Arbor in the US, October 22-24, 2024. We will collaborate with the University of Michigan Transportation Research Institute (UMTRI), which is a strategic partner of Chalmers University of Technology, SAFER's host university. This will be the first time that DDI will be arranged in America.
Excellent foundation for collaboration
Founded in 1965, UMTRI is a global leader in transportation research and a partner of choice for industry leaders, foundations, and government agencies. UMTRI is one of the largest research institutes at U-M in terms of research expenditures, at $20 million annually. The institute has conducted over 1,000 research projects and collected hundreds of terabytes of data. Their multidisciplinary research includes short and long-term projects in areas involving social and behavioral analyses, accident data collection, traffic safety analysis, and standards development and testing, as well as the deployment and evaluation of new safety and mobility technologies.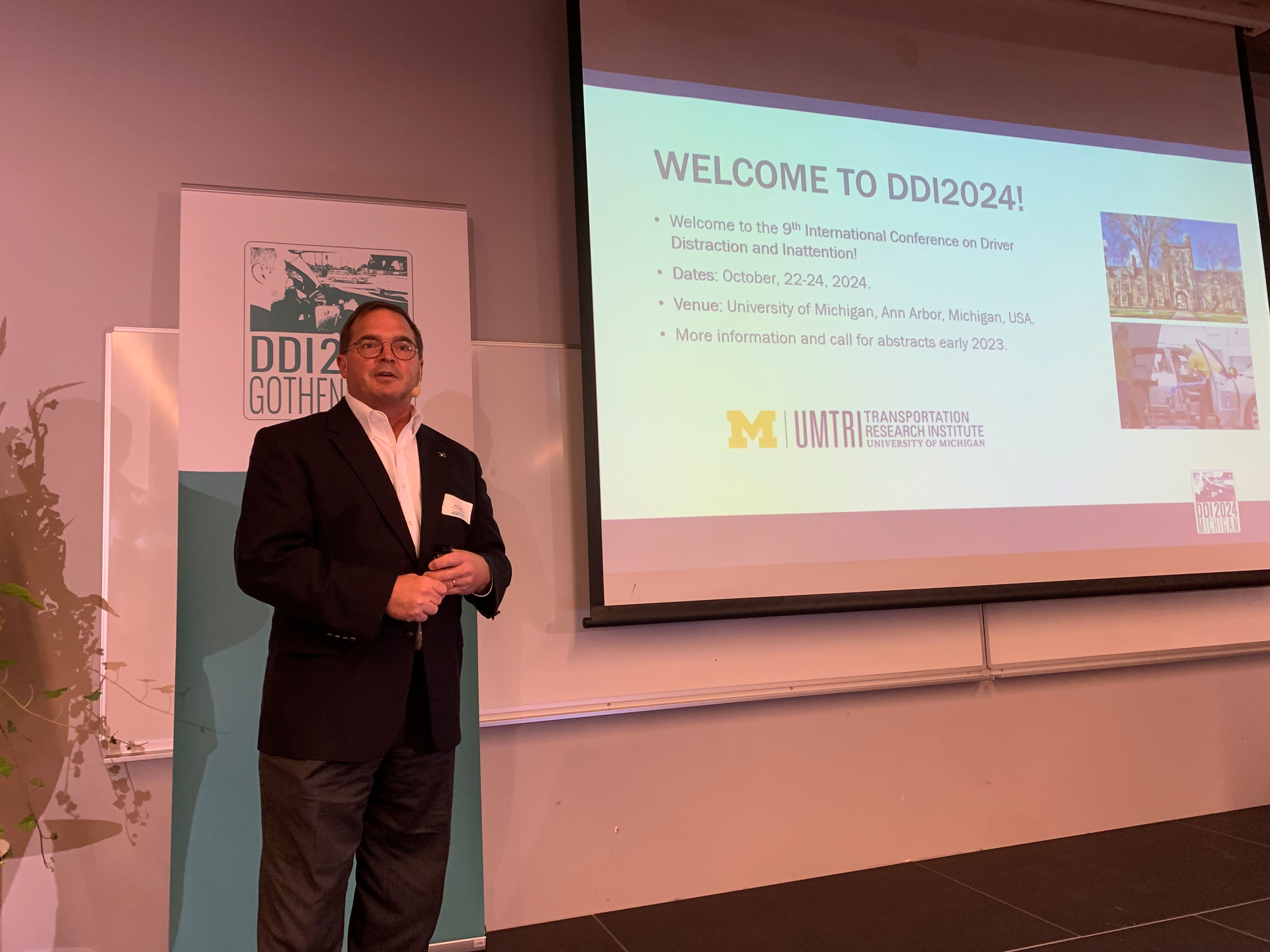 Director of UMTRI, Dr. Jim Sayer, will join the organisation committee responsible for the 2024 DDI conference:

"For over 50 years, UMTRI has been dedicated to solving the negative impacts our transportation system has on road users around the world. Hosting this prestigious event will enable greater collaboration with others committed to solving these vexing issues". 

Dr. Sayer continues:

"At UMTRI we tackle the very serious issue of driver distraction and inattention with a multidisciplinary approach that includes engineering systems, human factors, behavior sciences and we have one of the largest collections of naturalistic driving data sets in the country. Our research informs legislation around the country and is used by our sponsors to design and manufacture systems to eliminate distraction".

Jonas, Bärgman, Scientific leader and co-chair of the conference is very positive having UMTRI on-board and that DDI2024 will be arranged in the US:

"The last few years the development of autonomous driving systems has been overshadowing all other automotive safety topics, but people and organizations, not the least in the US, are starting to realize that driver distraction and inattention will continue to be a major issue for road safety for many years to come. Having the conference in Ann Arbor, Michigan, will for the first time bring us closer to the US automotive industry, US policy makers, and US researchers."
About the DDI conference
The International Conference on Driver Distraction and Inattention is the primary international event on this topic, attracting delegates from more than 20 countries. It is designed to bring participants – from academia, industry and government – up-to-date on the developments and trends in the field of inattention and distraction in driving. The conference features keynote speakers, plenary and parallel sessions, poster exhibition and panel discussions with various experts, representing various disciplines in this line of research. Networking is also an important part of the conference, and we are looking forward to the most recent and relevant research dialogue together with experts from all around the world, with the aim to address the challenges driver distraction and inattention poses, and to save lives in traffic. All extended abstracts are peer-reviewed.

DDI has been organised five times in Gothenburg, one in Sydney and one in Paris. The conference in 2021 was held online. Today, the conference plays an important role within this field of research. DDI is held biannually, in even years.

DDI are co-organised by the SAFER Vehicle and Traffic Safety Centre at Chalmers in Sweden, the Université Gustave Eiffel, France and the University of New South Wales, Australia. UMTRI will join the organisation committee for the ninth edition of the conference.