On September 22, it is time for the Lindholmen relay again, a team competition where four people in a team run 2.5 km each. We look forward to an evening with a nice mix of running, mingling and great energy!

Four times more fun when we run 10 kilometres together - and that is exactly the Lindholmen relay's goal - to have fun together. The Lindholmen relay stands for wellness, teamwork and entertainment. It is a real running party, but also a public party as the atmosphere is spiced with entertainment and live music. SAFER aims to be part of one, or more teams, depending on interest. Everyone can participate and do the relay at their own pace. After all, the most important thing is not to win - but to run, together! 

We meet at the SAFER premises at around 5 pm to warm up, energy recharging and learn something interesting together. Of course, we have our own stylish T-shirts with elegant SAFER print. The relay starts at 6 pm. After the race an After Run will be arranged, a nice hang out with mingling and snacks.
Sign up here (prior to Sep 8):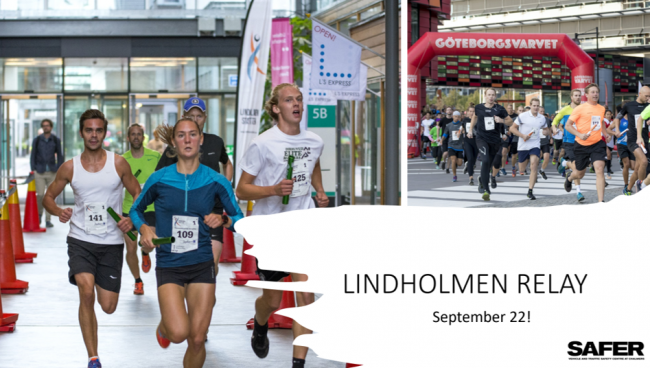 Info