Prospective safety assessment framework in the making in new SAFER associated project
In order to set policies for road safety in the coming decades and push for Vision Zero, an accepted and reliable method for the comparison of safety measures for connected, cooperative and automated mobility is needed. Following the Safe System approach, the V4SAFETY method will deal with the safety of all road users, from vulnerable road users to vehicle occupants.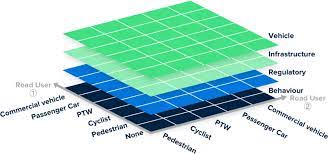 V4SAFETY will provide a prospective safety assessment framework that can handle a large variety of safety measures, ranging from in-vehicle safety technology, infrastructure solutions to regulations that influence road user behaviour. It includes methods to project the results in future scenarios and over EU regions for use by policy makers, authorities and consumer organizations.
To understand differences between studies and to understand the influence of underlying data, assumptions and models, the method provides tools to characterize the influence of the contributing factors and their uncertainties. The resulting transparency and consistency in simulation-based safety assessment leads to much improved comparability and reliability of safety assessment conclusions.
Overall methodology for prospective traffic safety assessments using simulations
V4SAFETY will provide a methodology applicable to diverse safety improvements, e.g. in vehicle technologies, infrastructure, policies, or solutions targeting traffic participant behaviour changes. Providing clear guidelines and relevant procedures will make it possible to interpret results from different studies that forecast traffic safety benefits – even if they were performed using different input data, simulation tools, and/or fundamentally different simulation study designs.

17 International partners
The V4SAFETY consortium consists of 17 international partners where of two SAFER partners; Chalmers University and Volvo Cars. The EU-funded project will run for 3 years and be hosted by the research area Safety performance evaluation.
TNO

BMW Group

BASt

Chalmers University of Technology

Frauenhofer IVI

IDIADA

Aachen University IKA

LAB France

SWOV Road Safety Research

Technische Hochschule Ingolstadt

TME

University of Florence

VIF

Volvo Cars

ZF

ERTICO

W2Economics

V4SAFETY is funded by the European Union under grant agreement No. 101075068.