Strong scientific contribution from SAFER partners in ESV
In the coming week, it is once again time for one of the world's largest road safety conferences, and many of SAFER's partners are contributing with research findings on how to improve road safety.
The 27th International Technical Conference on Enhanced Safety of Vehicles (ESV) is being held in Yokohama, Japan, April 3-6, 2023. The event is sponsored by the United States Department of Transportation, National Highway Traffic Safety Administration (NHTSA) in cooperation with participating ESV member countries. ESV conferences are unique and invaluable to the global community, providing opportunities to share innovative advances in motor vehicle safety and encourage international cooperation.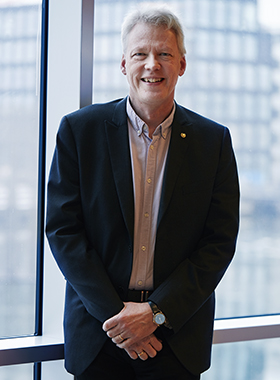 "Several of the conference contributions are developed in close collaboration between two or more  of our partners, and we are proud of the scientific quality of the publications. ESV is a great platform for us to spread knowledge and results from our projects to other parts of the world, which is ultimately one of the keys to improved road safety", says Magnus Granström, SAFER's director.
Among the contributions where SAFER's partners have been active, are several including research on human modeling, e.g. "The SAFER HBM – A human body model for seamless integrated occupant analysis for all road users". In addition, a paper from SAFER's working group on Safe System Principles led by Matteo Rizzi, the Swedish road administration, will be presented; "Proposed speed limits for the 2030 motor vehicles". The IGLAD consortium (Initiative for the GLobal harmonisation of Accident Data), coordinated by SAFER, is presenting a paper related to the creation and application of harmonized pre-crash scenarios from global traffic accident data. All in all, more than 20 of the presented studies have engaged SAFER's partners.
We wish all our SAFER partners all the best during the conference!
You can access the abstract book here!
Examples of contributions involving SAFER partners
PAPER NO.23‐0042‐O: An overview of road traffic injuries among children in Sweden over 20 years MARIA KLINGEGÅRD, ANDERS KULLGREN, HELENA STIGSON, ANDERS YDENIUS Folksam Insurance Company, Sweden
PAPER NO.23‐0187‐O Real-world protection of booster-seated children – Needs and challenges in future transportation
LOTTA JAKOBSSON, KATARINA BOHMAN, ISABELLE STOCKMAN Volvo Cars, Sweden
PAPER NO.23‐0060‐O Passenger cars in head-on crashes with heavy goods vehicles: for what severity should future car restraint systems be designed?
KRYSTOFFER MROZ, MARTIN ÖSTLING, NILS LUBBE Autoliv Research, Sweden
PAPER NO.23‐0300‐O Investigating slouching in frontal impacts using an HBM in the rear seat KATARINA BOHMAN, EMIL GRÖNDAHL, LOTTA JAKOBSSON Volvo Cars, Sweden
PAPER NO.23‐0321‐O Frontal crash incompatibility of heavy goods vehicle in crash test with passenger car
RIKARD FREDRIKSSON Swedish Transport Administration, Sweden ROBERT THOMSON Chalmers University of Technology, Sweden KRYSTOFFER MROZ, DION KRUSE Autoliv, Sweden FREDRIK TÖRNVALL Volvo Technology, Sweden
PAPER NO.23‐0334‐O Potential injury criteria for collisions with heavy goods vehicles
JASON FORMAN University of Virginia, United States MARTIN OSTLING, KRYSTOFFER MROZ, NILS LUBBE Autoliv Research, Sweden
PAPER NO.23‐0114‐O Effects on crash risk of automatic emergency braking systems for pedestrians and bicyclists
ANDERS KULLGREN Folksam Insurance Company, Sweden KHABAT AMIN Swedish Transport Authority, Sweden CLAES TINGVALL AFRY, Sweden
PAPER NO.23‐0133‐O Comparison of injury predictors and kinematics of Human Body Models representing average female and male road users in car crashes.
CORINA KLUG, CHRISTOPH LEO TU Graz, Austria JOHAN IRAEUS, JOBIN JOHN, I PUTU ALIT PUTRA, MATS SVENSSON Chalmers University of Technology, Sweden INES LEVALLOIS Faurecia, France ARNE KELLER, LINUS TRUMMLER Working Group on Accident Mechanics, Switzerland ASTRID LINDER The Swedish National Road and Transport Research Institute, Sweden
Paper no NO.23‐0152‐O Analysis of injury mechanism & thoracic response of elderly, small female PMHS in near-side impact scenarios
JOHN BOLTE, YUN SEOK KANG, AMANDA AGNEW The Ohio State University, United States BEN SHURTZ Autoliv, United States BENGT PIPKORN Autoliv, Sweden KEVIN MOORHOUSE, HEATHER RHULE National Highway Traffic Safety Administration (NHTSA), United States
Comparison of injury predictors and kinematics of Human Body Models representing average female and male road users in car crashes.
CORINA KLUG, CHRISTOPH LEO TU Graz, Austria JOHAN IRAEUS, JOBIN JOHN, I PUTU ALIT PUTRA, MATS SVENSSON Chalmers University of Technology, Sweden INES LEVALLOIS Faurecia, France ARNE KELLER, LINUS TRUMMLER Working Group on Accident Mechanics, Switzerland ASTRID LINDER The Swedish National Road and Transport Research Institute, Sweden
PAPER NO.23‐0242‐O The SAFER HBM – A human body model for seamless integrated occupant analysis for all road users
BENGT PIPKORN Autoliv Research, Sweden LOTTA JAKOBSSON, JONAS ÖSTH Volvo Cars, Sweden JOHAN IRAEUS Chalmers University of Technology, Sweden
PAPER NO.23‐0276‐O Comparison of head-neck kinematics between isolated Finite Element (FE) head-neck model and full-body model in low severity rear-end impact
I PUTU ALIT PUTRA, JOHAN IRAEUS, MATS Y. SVENSSON, ROBERT THOMSON Chalmers University of Technology, Sweden FUSAKO SATO Japan Automobile Research Institute, Japan ASTRID LINDER The Swedish National Road and Transport Research Institute, Sweden
PAPER NO.23‐0132‐O A novel Powered Two-Wheeler rider dummy; specifications and initial testing JOLYON CARROLL Autoliv Research, Sweden BERNARD BEEN Humanetics Europe GmbH, Netherlands MARK BURLEIGH Humanetics Europe GmbH, United Kingdom
PAPER NO.23‐0166‐O Proposed speed limits for the 2030 motor vehicle
MATTEO RIZZI, RIKARD FREDRIKSSON Swedish Transport Administration, Sweden OLA BOSTRÖM Veoneer, Sweden ANDERS KULLGREN Folksam Insurance Company, Sweden NILS LUBBE Autoliv Research, Sweden JOHAN STRANDROTH Inc, Sweden CLAES TINGVALL AFRY, Sweden
PAPER NO.23‐0068‐O System limitation experiences by Swedish drivers using ACC and LKA
MARIA KLINGEGÅRD Folksam Insurance Company, Sweden ANNIKA LARSSON Arriver, Sweden
PAPER NO.23‐0263‐O Key human factors development principles for DMS enhanced collision avoidance system development
MIKAEL LJUNG AUST Volvo Cars, Sweden Abstract
PAPER NO.23‐0284‐O Euro NCAP virtual testing - Crashworthiness
CORINA KLUG, MARTIN SCHACHNER TU Graz, Austria JAMES ELLWAY, MICHIEL VAN RATINGEN The European New Car Assessment Programme (Euro NCAP), Belgium ANDRE EGGERS German Federal Highway Research Instutute (BASt), Germany JAKUB GALAZKA Toyota Motor Europe, Belgium SIMON GARGALLO ZF Friedrichshafen AG, Germany CRISTIAN JIMENEZ Applus+ IDIADA, Spain JESSICA KIRCH Honda R&D Europe GmbH, Germany INES LEVALLOIS Faurecia, France UWE LOBENWEIN Mercedes‐Benz AG, Germany NORMAN MEISSNER BMW AG, Germany VICTOR PARDEDE Hyundai Motor Group, Germany BENGT PIPKORN Autoliv, Sweden
PAPER NO.23‐0286‐O Euro NCAP's current and future in-cabin monitoring systems assessment ADRIANO PALAO The European New Car Assessment Programme (Euro NCAP), Netherlands RIKARD FRIEDRIKSSON The Swedish Transport Administration, Sweden MIKE LENNÉ Seeing Machines, Australia
PAPER NO.23‐0120‐O Evaluation of seatbelt use among pregnant women in Sweden
ANNA CARLSSON, BESHARA SAWAYA Chalmers Industrial Technology (Chalmers Industriteknik), Sweden HELENA STIGSON Folksam Insurance Group, Sweden
PAPER NO.23‐0186‐O Assessment of passenger safety in future cars - Identifying the real-world needs towards safety system development
LOTTA JAKOBSSON, KATARINA BOHMAN, ISABELLE STOCKMAN, PERNILLA NURBO Volvo Cars, Sweden MARTIN ÖSTLING, KARL-JOHAN LARSSON, BENGT PIPKORN Autoliv Research, Sweden MATS SVENSSON, ANNALISA OSVALDER Chalmers University of Technology, Sweden
PAPER NO.23‐0266‐O The creation and application of harmonized pre-crash scenarios from global traffic accident data
HENRIK LIERS, MARCUS PETZOLD Verkehrsunfallforschung an der TU Dresden GmbH, Germany HARALD FEIFEL Continental Teves AG & Co oHG, Germany JÖRG BAKKER Asymptotic AI, Sweden
PAPER NO.23‐0347‐O Government Status Report - Sweden
MATTEO RIZZI The Swedish Transport Administration, Sweden