OSCCAR
Period
1 June 2018–30 November 2021
Project manager
Werner Leitgeb, Virtual Vehicle, Austria
The EU Horizon 2020 research project "OSCCAR - Future Occupant Safety for Crashes in Cars" - develops a novel, simulation based approach to safeguard occupants involved in future vehicle accidents.
Highly automated vehicles will offer new, more comfortable sitting positions that consequently will be in need for advanced and novel restraint systems in order to best possible protect all occupants in future accident scenarios.
OSCCAR will investigate future accident scenarios, develop new advanced occupant protection principles and contribute to the improvement of diverse, omnidirectional, biofidelic and robust human body models (HBMs). These HBMs form the basis for digital homologation necessities of future vehicles. OSCCAR joins an international partner consortium aiming to establish an integrated, simulation assessment framework for complex scenarios, in order to pave the way for virtual-testing-based homoogation.
The OSCCAR project assembles 21 partners, including 19 from Europe and 2 from China. The project is coordinated by Virtual Vehicle Research Center in Graz/Austria and will run for 3 years, from June 2018 until May 2021.
OSCCAR Key Objectives:
• Understanding future accident scenarios involving passenger cars
• Demonstration of new advanced occupant protection principles and concepts
• Contribution to the development of diverse, omnidirectional, biofidelic and ro-bust HBMs
• Establishment of an integrated, virtual assessment framework
• Contribution to the standardization of virtual testing procedures
• Development of an exploitation strategy towards large scale implementation of virtual testing methods
This project has received funding from the European Union's Horizon 2020 research and innovation programme under grant agreement No 768947.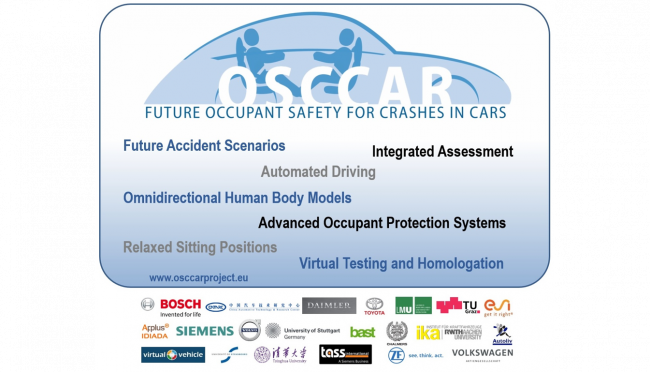 Short facts
Research area
Human body protection
Partners
EU and international partners (see project description)
VCC
Autoliv
Chalmers University of Technology
Project type
Associated project